Best Free Remote Keylogger For Windows 7
#1 Spyrix Free Keylogger Spyrix is sure the first keylogger that makes this list. The program controls and records every single keystroke. Though there is a premium version available, the free... Wolfeye Keylogger is a German keylogger for Windows 10, 8, 7, Vista, and even XP, which has ceased receiving further support or security updates. Created with the social media generation in mind, Wolfeye Keylogger can capture Facebook, e-mail, chat, and web activity with a click of a button and send the recorded keystrokes to a remote location ... Revealer Keylogger Free is the most popular free keylogger for Windows operating system. It offers you the extreme fast and easy keyboard input monitoring facility.
Ardamax Keylogger comes with a free 7-day trial version that allows you to enjoy the full functionality of the product for a limited time period. Once it expires, you will have to stop using the program or purchase a license key to unlock it. Download Free Keylogger Remote for Windows to monitor keystrokes and other activities on your PC remotely. ... Best for privacy 3 months free with 1-year plan. Download Now Spyrix Free Keylogger is the free version of the paid Spyrix Personal Monitor. It is able to capture keystrokes, clipboard text and take screenshots but advanced features like social network & IM capture, visited webpage logging, webcam snapshots, sound recording, and alerts are not available. Recognized by tons of users, Micro Keylogger is the best undetectable keylogger that allows you to keep track of what is happening on your computer occupied Windows 7 system.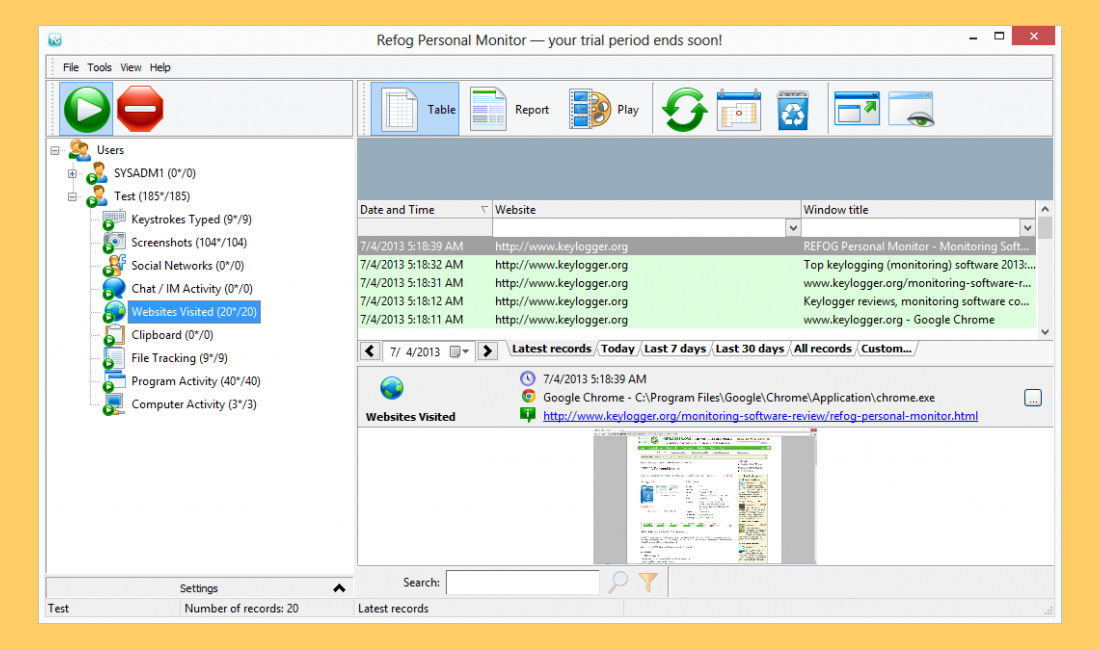 Here are the top 15 best free Keylogger softwares to monitor keystrokes in windows. 1:- Free Keylogger. If you want to capture site addresses, data of the clipboards, free Keylogger is the best software for you. Taking a look at its popularity amongst the users, free Keylogger is the most downloaded software of this kind from CNET. If Perfect Keylogger for Windows does not perform as advertised, please notify us with a detailed description of your problem. Our customer support staff is available 7 days a week, and we will do our very best to make sure the product performs properly. - You can hide keylogger in the Add/Remove Software List of Windows. As well as in the Start Menu / Metro Menu. For whom is this program? Free Keylogger Remote is used in various waysaims. For example, the parents use it to control their children on the Web. They read online conversations, and find out what websites are visited by their kids.
Spyrix Keylogger is a free keylogging programming that permits recording and checking of each and every keystroke. This freeware can likewise catch screen captures of the dynamic projects at indicated interims with the goal that you can screen every one of the exercises going on your PC. Keystroke logger 1/3 Free Keylogger is a monitoring software developed by IWantSoft. The program is in charge of capturing and recording every keystroke such as letters, numbers, enter key, and backspace. When installing a Windows keylogger, we have to attach great importance to Operation system compatibility.People who use Windows 7 and even the latest windows 10 all ask for quality windows keylogger to satisfy their demands. Yes, here is an opportunity for them to download windows keylogger for free to make certain it works well in their special environment.
Another Good Free Keylogger #4: Best Free Keylogger. Price Free, Pro version costs $39.99 (one-time payment) System Requirements Windows 10, 8.1, 8, 7 & Vista. The Best Free Keylogger has an intuitive and user-friendly interface with a host of useful settings. For instance, you can sort records by date, application, user, or text. No problem, because Spyrix Free Keylogger has a remote monitoring feature. It delivers all logs to a secure online account where you can check all the logs just like you would on the target computer. More than that, there you can find comprehensive analytics of the activity, such as active and inactive time, mostly used apps and more. Iwantsoft Free Keylogger discreetly monitors all activities on a computer by registering every keystroke, capturing the content of the system clipboard, logging program usage, keeping track of visited websites and even making screenshots with certain periodicity. Other activities are also recorded.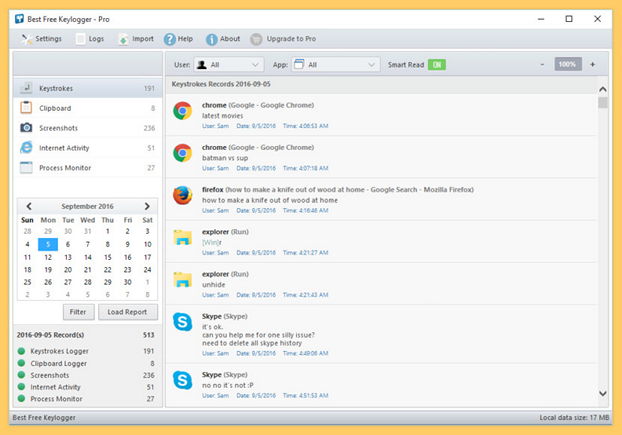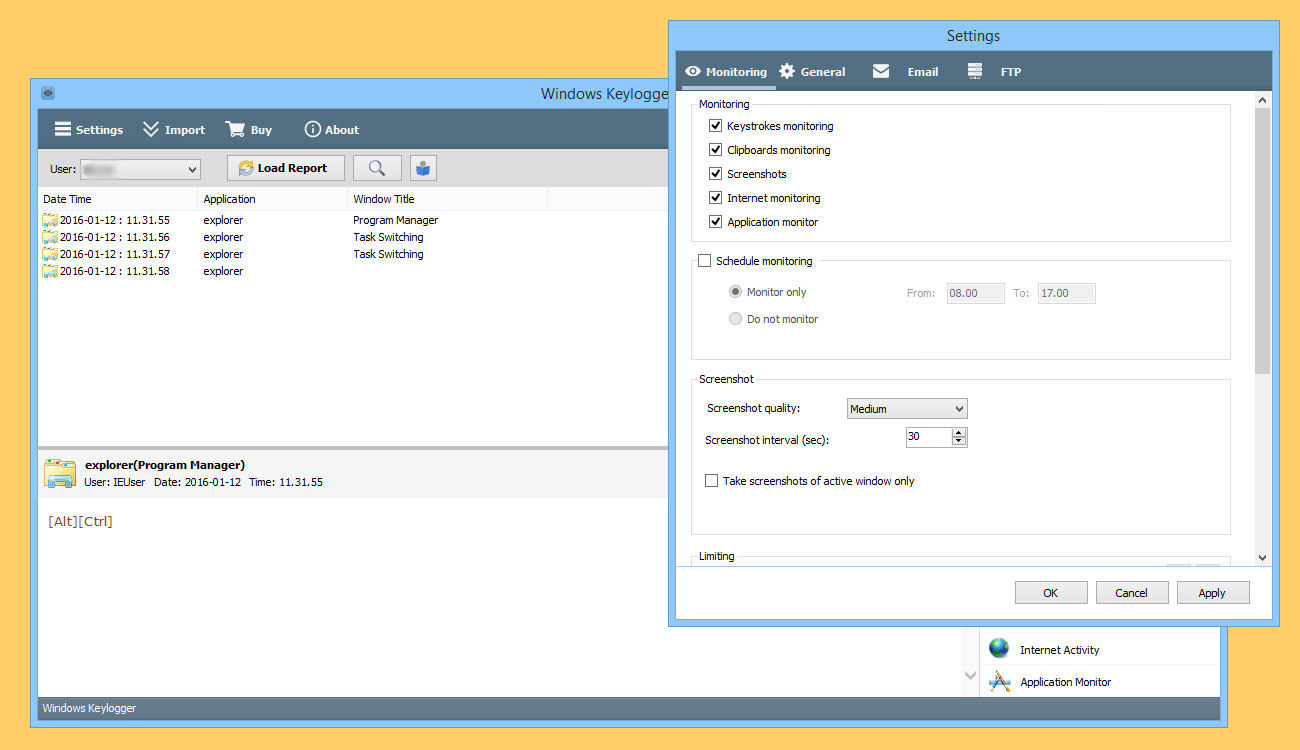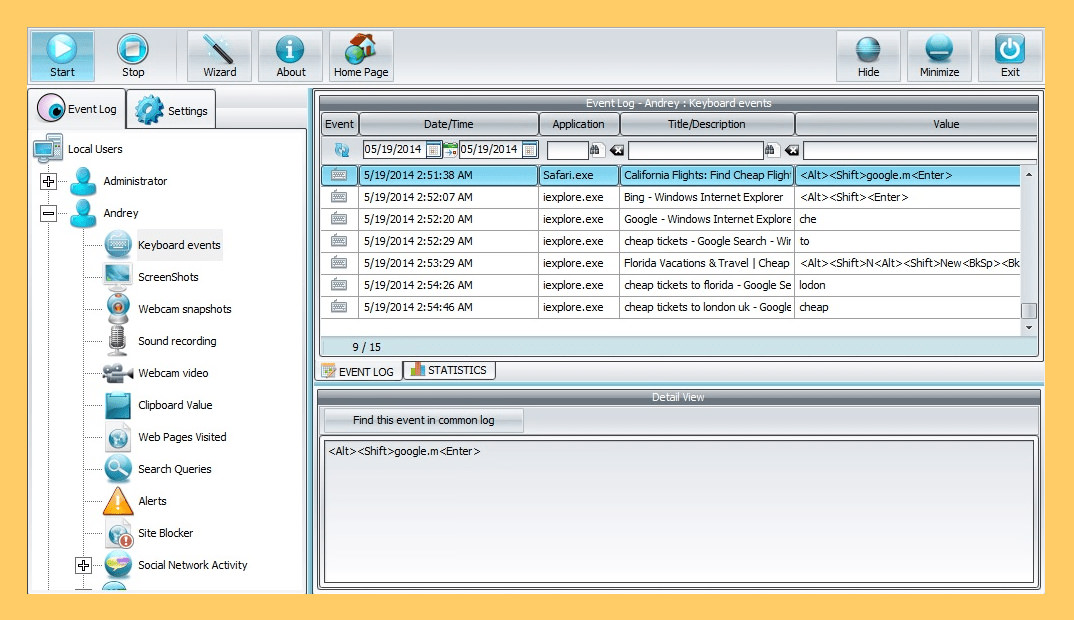 Elite Keylogger PRO is the best keylogger for remaining undetected and it cannot be detected by antivirus or antispyware programs. It does not show up as an active application and is not listed in the Programs folder. The only way to reveal our hidden keylogger is by typing a secret word and then a password. Top 6 Best Free Keylogger for Windows. Revealer Keylogger free is also a keylogging program - which helps in additional features for tracking the computer activity in the past time. The Keylogger allows you to protect data via passwords, And remote monitoring of the system. Top 7 Free Keylogger Software for Windows 10. It's dubious to detect a Keylogger Software because they include invisible mode the gadget. It suggests that PC clients don't comprehend that Keylogger is available on their gadgets. 1. Spyrix Keylogger Software. The program watches and reports every keystroke.